Thank you for your interest! Please read & follow the Terms of Service below before filling the order form: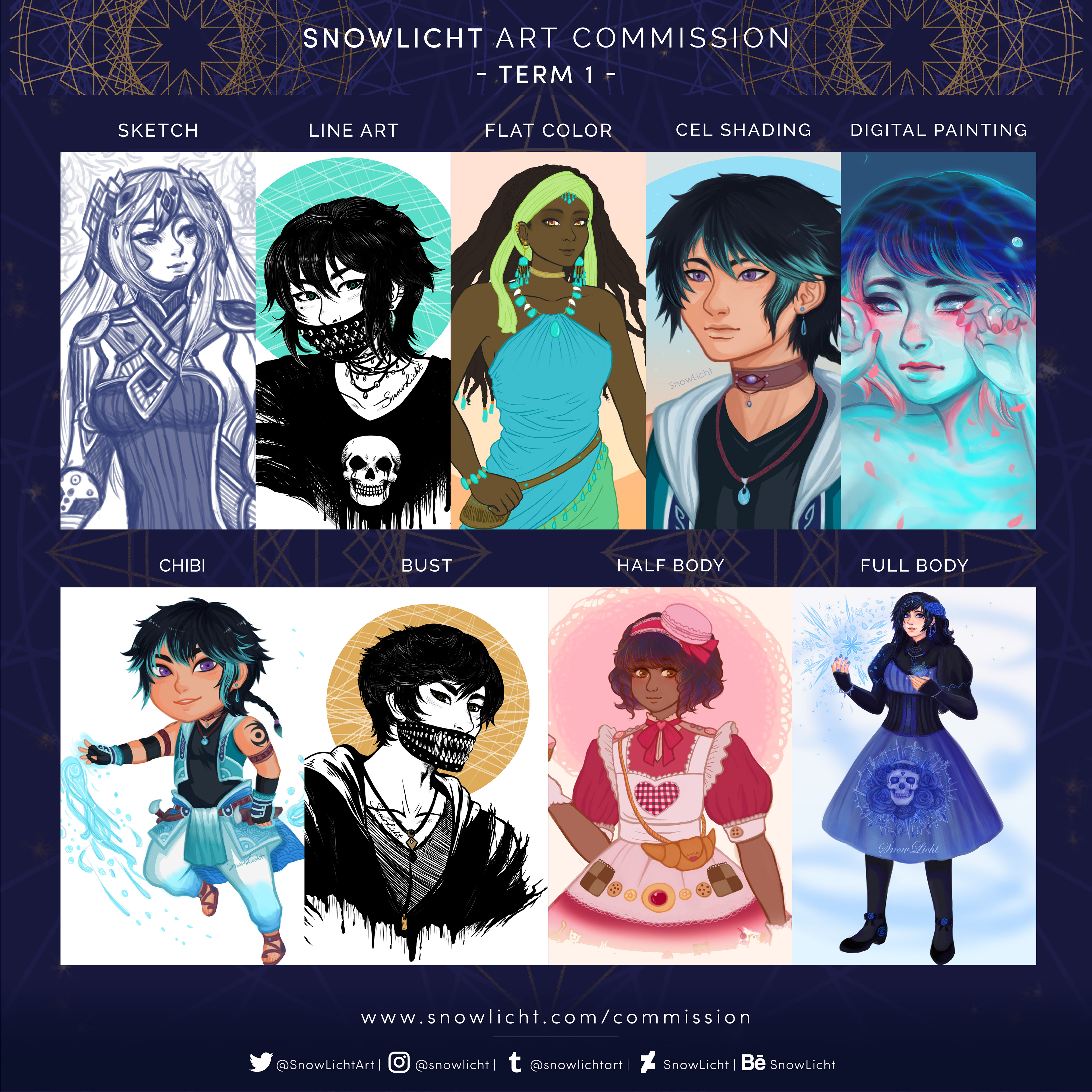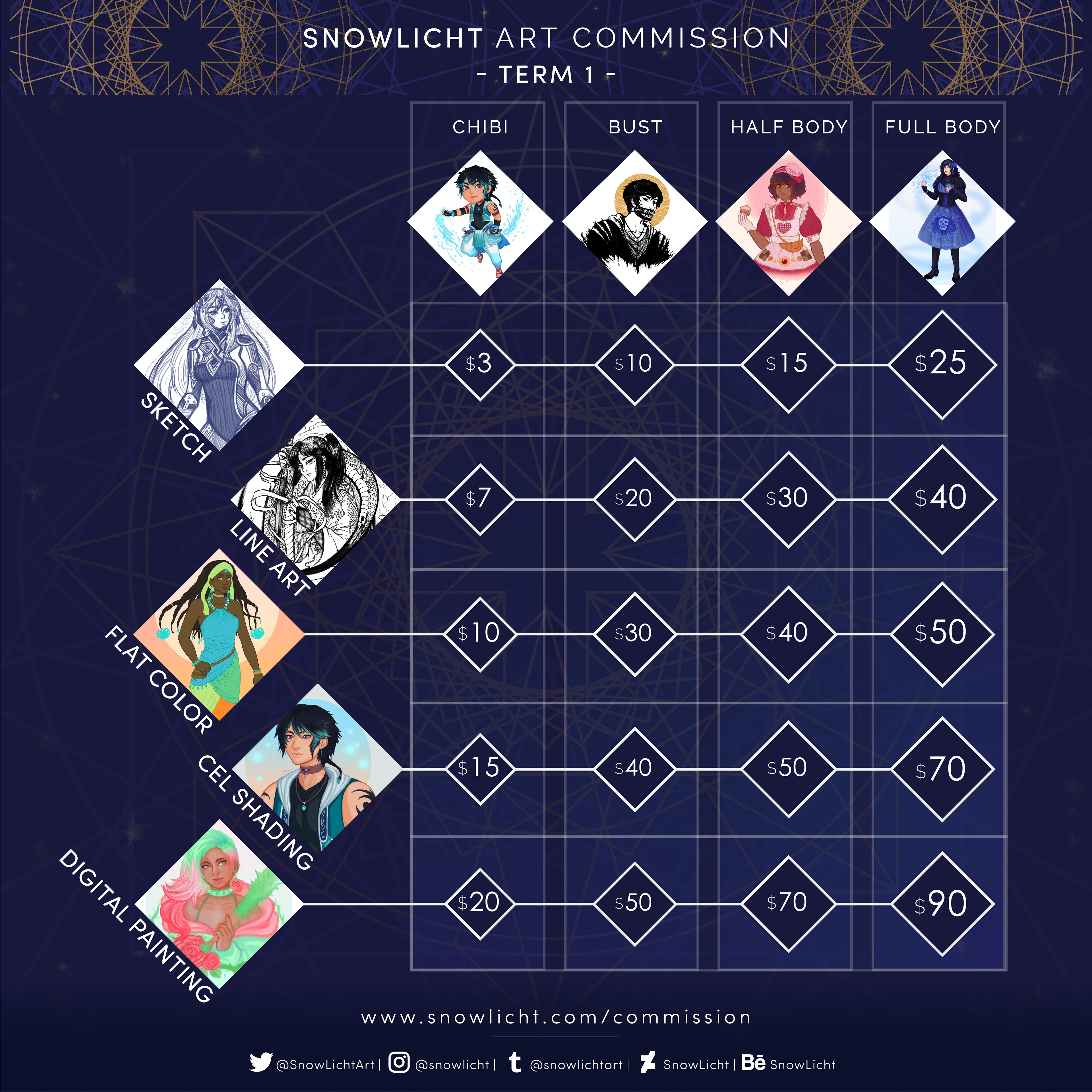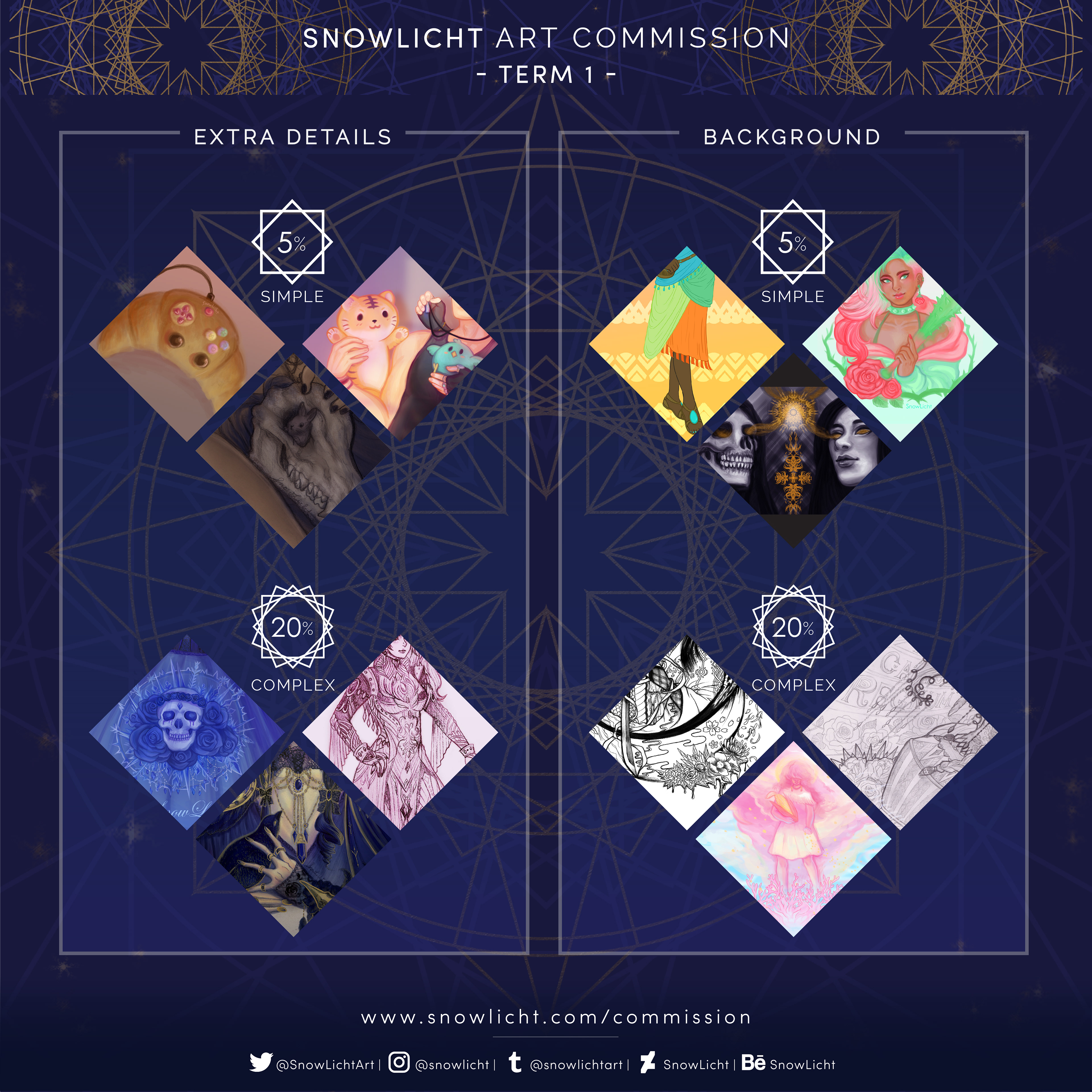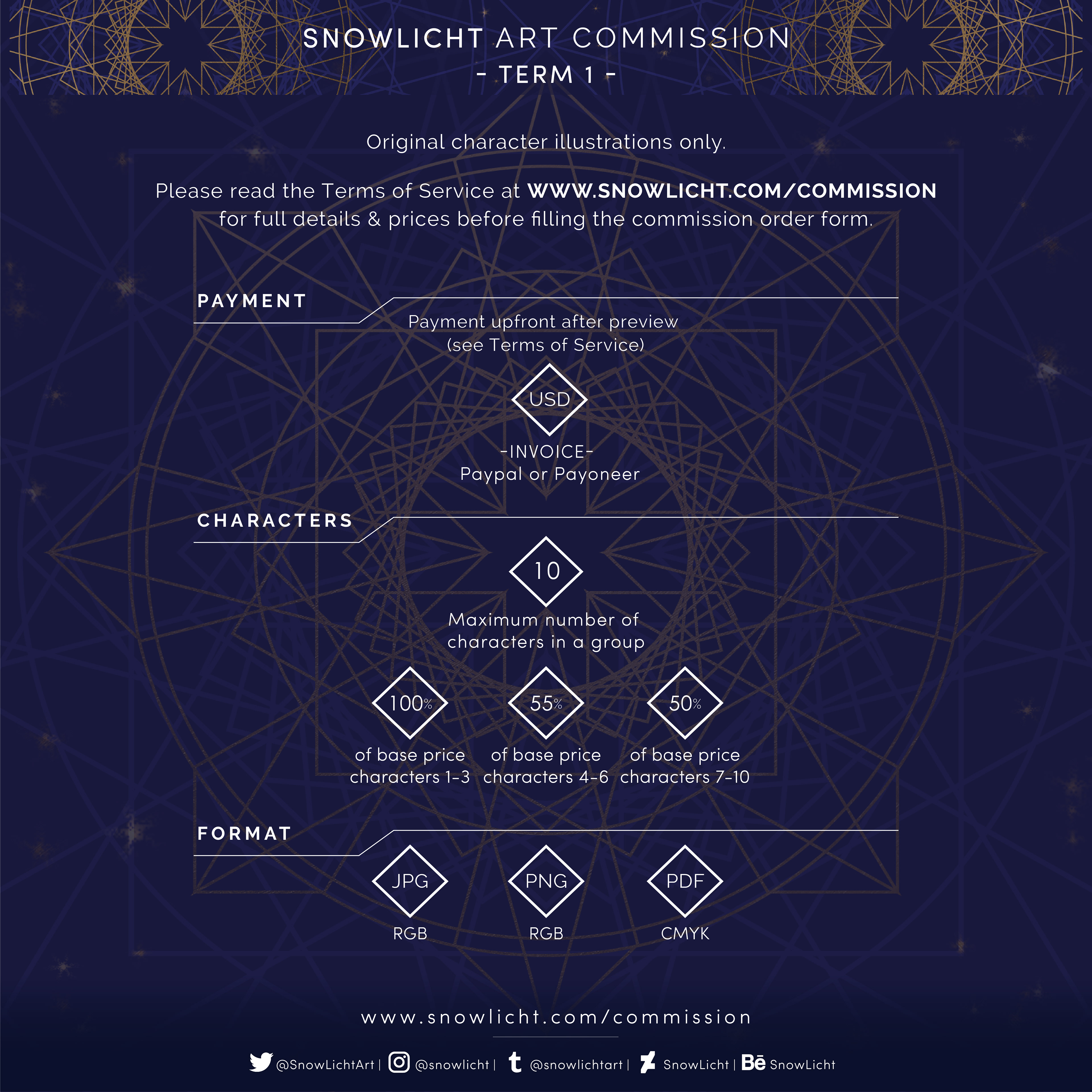 Sketch lines come in color of your choice indicated in order form.
$3 Chibi     

|

     

$10 Bust     

|

     

$15 Half body     

|

     

$25 Full body   
Accent color may be added if indicated in order form.
$7 Chibi     

|

     

$20 Bust      

|

     

$30 Half body     

|

     

$40 Full body  
$10 Chibi     

|

     $30 Bust      

|

     

$40 Half body      

|

     

$50 Full body   
$15 Chibi     

|

     

$40 Bust     

|

     $50 Half Body     

|

     

$70 Full body    
$20 Chibi     

|

     $50 Bust     

|

     

$70 Half body      

|

     $90 Full body   
-------\\\ OPTIONAL \\\-------
Maximum number of characters in one canvas: 10



Full price for characters 1-3
     

|

     
55% price for characters 4-6
     

|

     
50% price for characters 7-10
(example: half body sketch of 7 characters: $15 + $15 + $15 + $8.25 + $8.25 + $8.25 + $7.50 = $77.25)
Extra details include: detailed clothing, numerous accessories, intricate tattoos, props, instruments, weapons, plush toys, devices.
*Price per character based on full base price
Simple:     5% per character
     

|

     
Complex:     20% per character
Backgrounds are decorative.
*no complex architecture or interiors.
*Price calculated after extra details.
Simple:    5% of total
     

|

     
​​​​​​​
Complex:    20% of total
This is an  agreement between you (the client) and I (the artist known as "SnowLicht")


______________
◆ No physical item will be sent. You agree to pay in full  for a digital illustration in these formats sent via email: JPG + PNG + PDF. 
◆ I will send an email after reviewing your submitted order form for approval. I have the right to decline orders that do not follow rules or contain content that I am unable to work on for any reason.
◆ I retain copyright of my art.
   ◊ Do not remove my signature.
   ◊ I am free to post the finished commission online at www.snowlicht.com + my social media with proper credits.
   ◊ Feel free to use your completed commission order for personal use. You may print at home or at a print shop and post on your social media or use as an icon/banner/header (please credit "SnowLicht" as the artist).
   ◊ Do not sell copies of my art unless you consult with me for commercial use which comes with added costs.
◆ Payment will be requested through digital invoice (see "Procedure") to be paid in US Dollars (USD) via Payoneer or PayPal.
◆ Refund & revisions are not accepted once commission is completed/cancelled.
◆ I have the right to cancel an order and refuse future orders from those who engage in dishonest/immoral behaviors such as spam, illegal activity, stalking, endangerment to safety, harassment, cheating out of payment, etc.
I may modify/add to these lists at any time before accepting your order
✓ original character (oc) | "character" can be human, vampire, elf, mermaid/man, skeleton, lichen, ghost, cyborg, humanoid android, kemonomimi (animal ears/tail), certain personified animals & anthropomorphic creatures (judged on case by case basis depending on species & design) | anthropomorphic characters most likely to be accepted are those that could appear in a high fantasy RPG or vintage fairy tale: examples: ◆ Laplace's Demon from Rozen Maiden (man with animal head) | ◆Viera from Final Fantasy | ◆ fantasy stag mage |
✓ most animals & fantasy creatures | Examples: dragon, phoenix, chimera, monsters, etc. (price varies depending on complexity)
✓ LGBT+ characters & couples
✓ nudity with genitals covered & pinup/erotica (NON-anthropomorphic/furry characters only) | must verify that you & character(s) are 18+ years of age.
✓ blood, gore, horror, macabre, death
✕ character not belonging to you, unless you have the owner's permission (Please ask the owner to contact me to prove that they consent to having their character drawn)
✕ fan art (I DO accept customized player characters from video games such as Skyrim, Dragon Age, etc.)
✕ architecture & vehicles (cars, bicycles, etc.)
✕ rape, pedophilia,
genitals
✕ some furries/anthros especially if in sexual pose/clothing or cartoonish style (see acceptable anthropomorphic characters in "Can draw" list)
Read and follow this Terms of Service in full then fill out the order form at the bottom of this page. (*ΦωΦ*)📖
✓✉

\(。 ● ω ●。)/

✉✕

Once submitted, your form will be reviewed for approval. An email should be sent to you within 48 hours. If not, please contact me at: www.snowlicht.com/contact
◆◆ STAGE 2 : Preview Draft
♪(ง ˘ω˘ )人( ˘ω˘ )ว♪ If your order is approved, I will send an email with the calculated price & discuss your payment method.  
Payment method: indicate whether you would like to pay invoice via Payoneer (orders that are at least $20 only) or PayPal.
✨٩( òωó )و🎨If you agree to pay, I will then work on the

preview draft

before sending the invoice.
   ◊ The "

preview draft

" will be a small watermarked rough draft sketch of your order before I work on the commission. 
   ◊ If needed, you may request reasonable revisions. (Edits should be reasonable. Drastic changes such as new characters/outfits and added complexity may result in added fee/delay)
 ( ´• ω•`)つ💵c(´; ω ;`)✧ Once you approve the preview draft, I will send an invoice with the agreed amount & payment method. Please pay promptly in US Dollars (USD) (convert currency if needed).
◆◆◆◆ STAGE 4 : After Payment
(σ๑ •̀ω•́ )σ📧✨I will occasionally email you with progress updates on your order. If needed, please request any minor revisions to ensure the final result of your order is to your liking.
(ノ ´ᗜ `)ノ📧ヽ( ´ᗜ `ヽ) Please keep in contact with me to stay active on the wait-list. If I cannot contact you after 7 days, I may postpone your order.
Refund/cancellation policy:

If you have a valid reason to cancel your order, please email me before the commission is finished so I can provide partial refund and a watermarked JPG file of the incomplete commission (refund varies depending on progress made).
Once you approve the last draft, I will send you the final digital file(s) of your commission via email.
(σ๑´• ω•`)σ✨📧📁📁📁 The commission is complete!
Thank you for your patience & interest.  ❄(ノ๑´꒳`)ノ✨
Once you have read and agreed to the Terms of Service in full and agree to pay me (the artist known as "SnowLicht"), you may proceed to fill up the order form below: