Thank you for your interest! Please read & follow the Terms of Service below before filling the
order form
:
Wait-List Cycle: 1  ◆ 

 ( open as of 2018.2.22 )
1. [2020.9.2] completed on 2020.9.2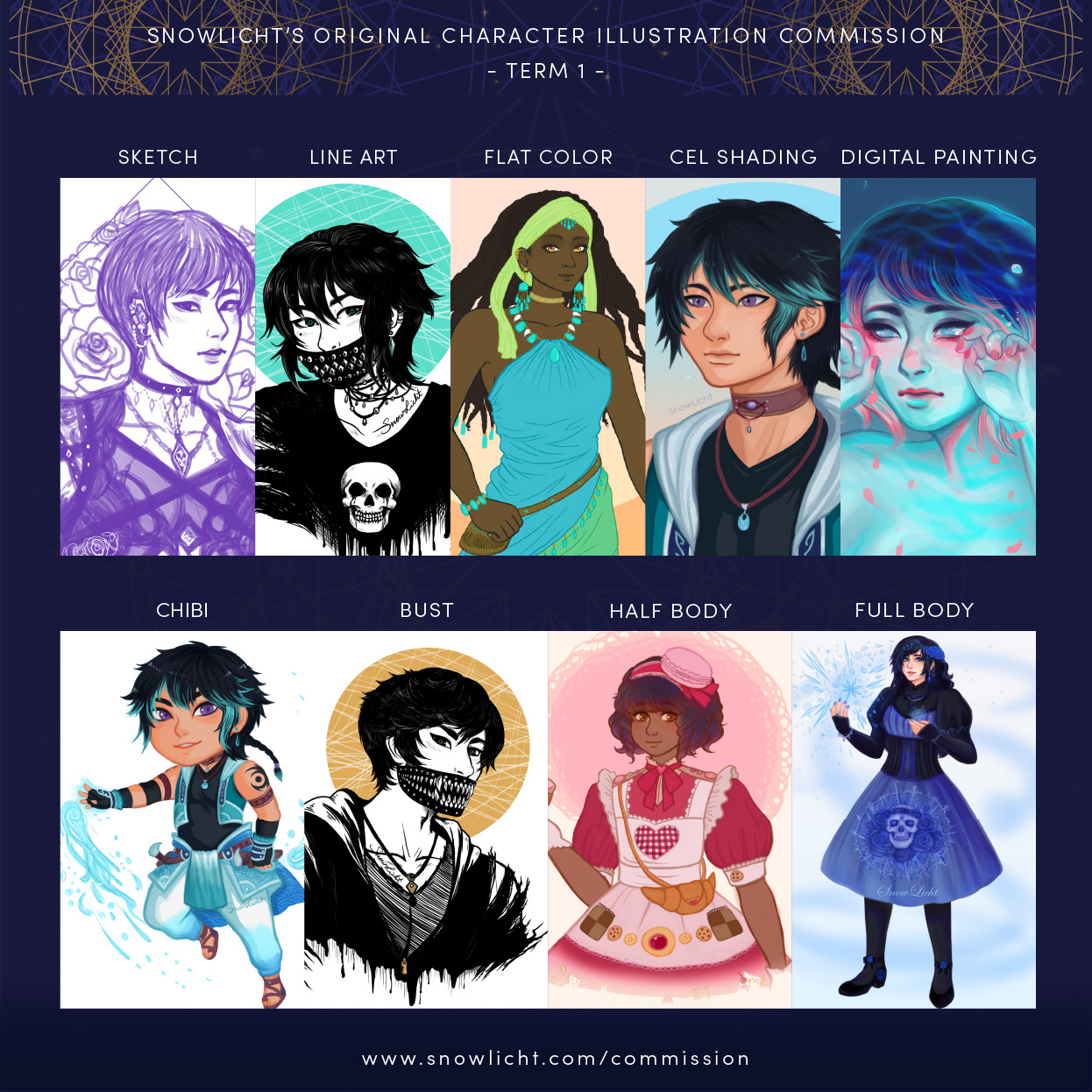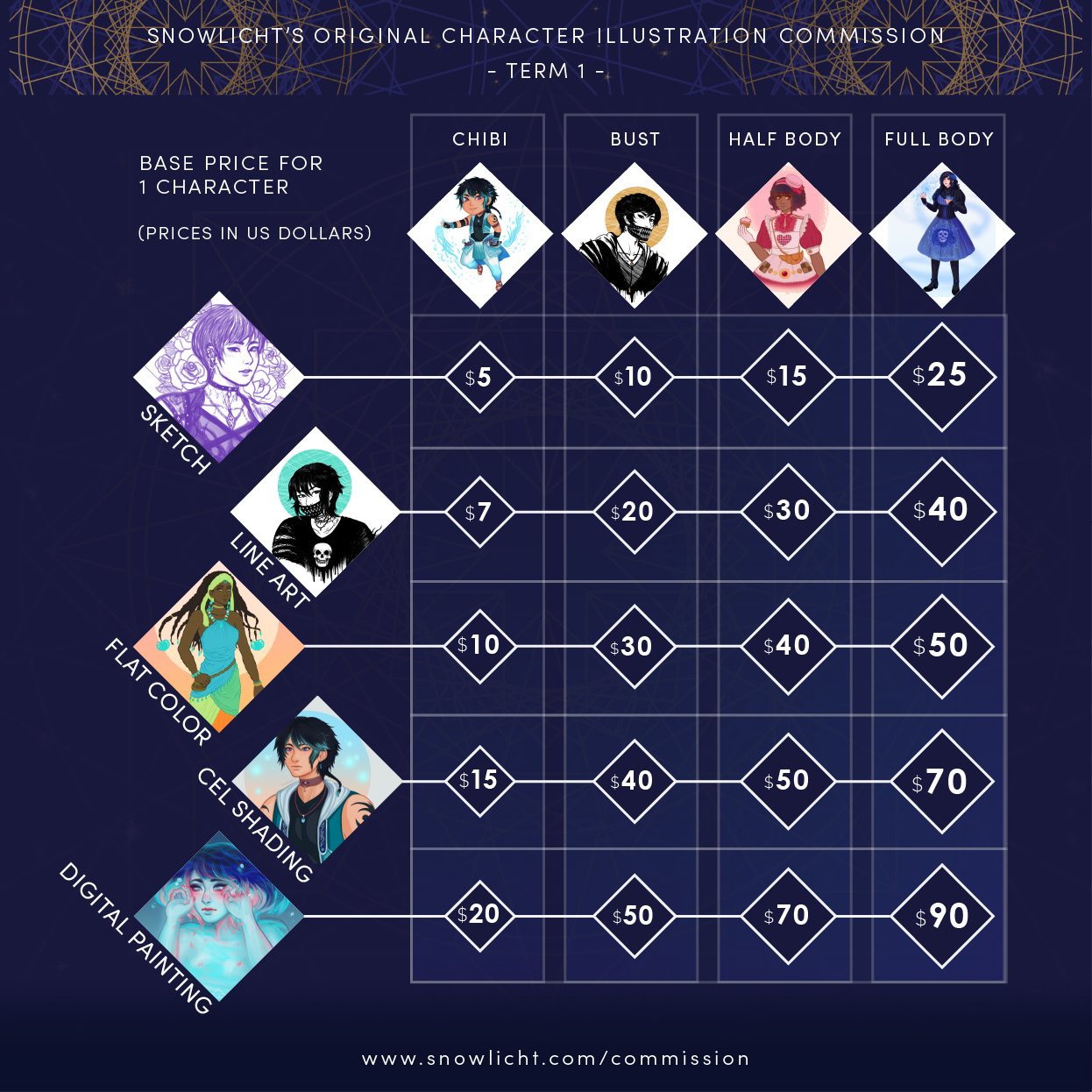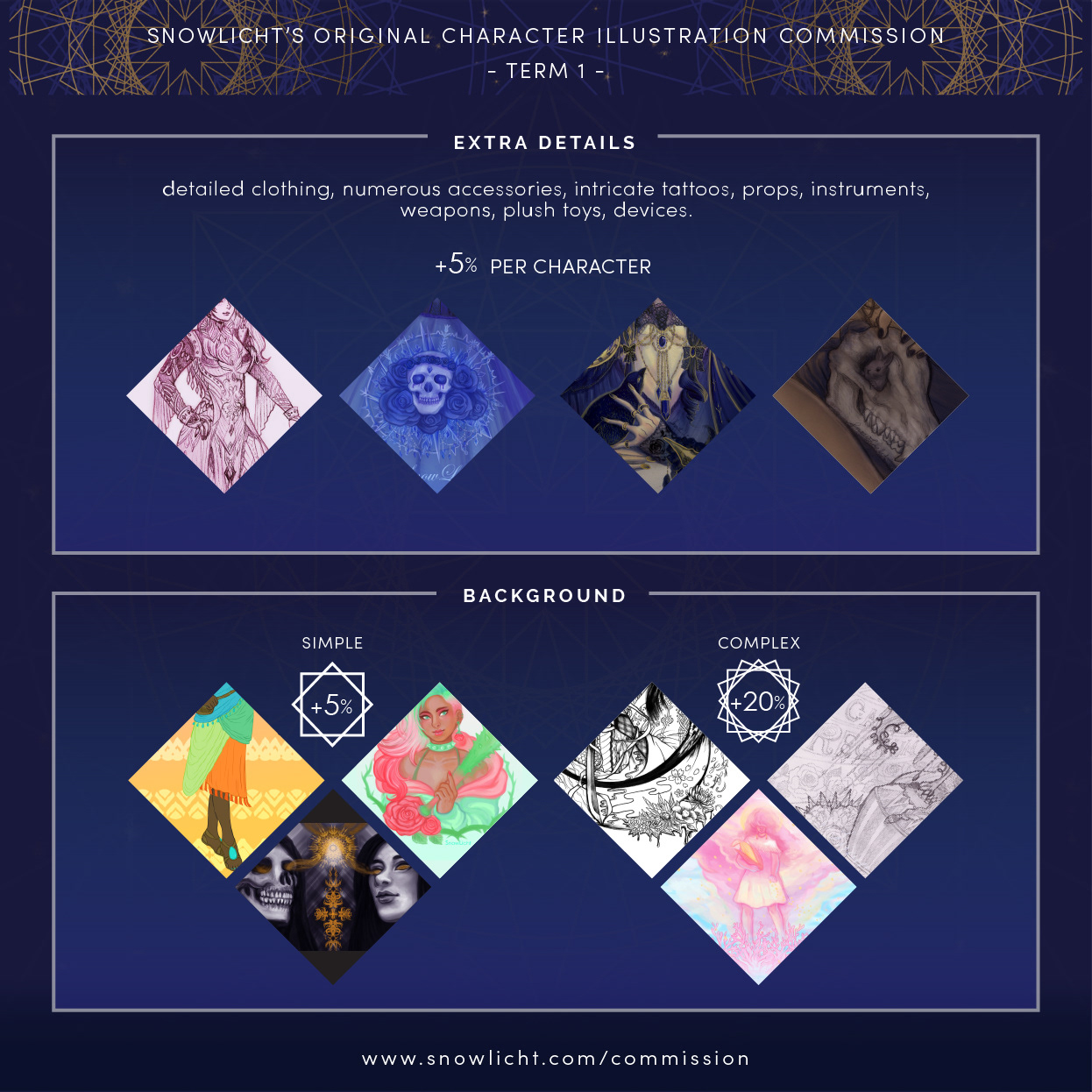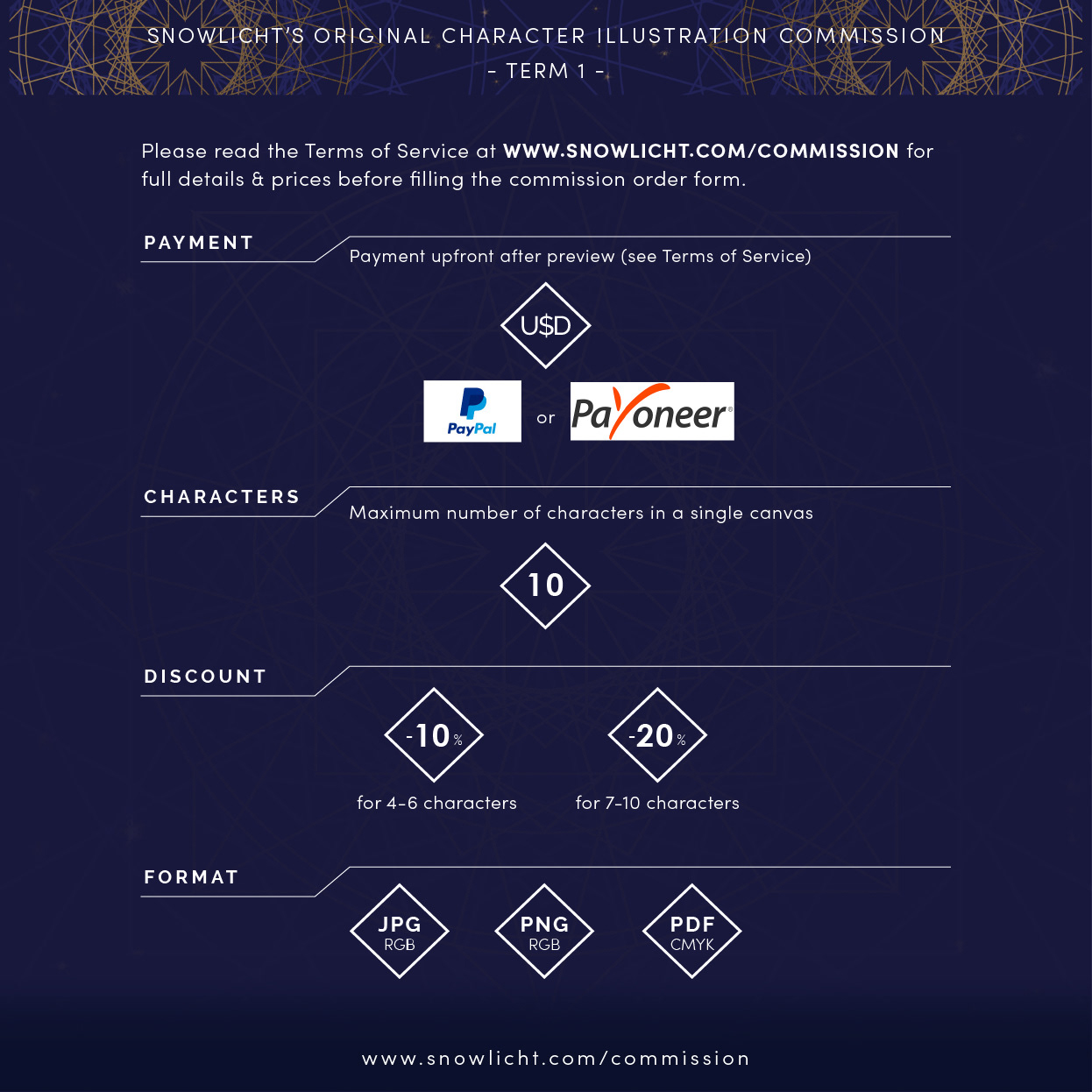 Sketch lines come in color of your choice indicated in order form.
$3 Chibi     

|

     $10 Bust     

|

     $15 Half body     

|

     $25 Full body   
Accent color may be added if indicated in order form.
$7 Chibi     

|

     $20 Bust      

|

     $30 Half body     

|

     $40 Full body  
$10 Chibi     

|

     $30 Bust      

|

     $40 Half body      

|

     $50 Full body   
$15 Chibi     

|

     $40 Bust     

|

     $50 Half Body     

|

     $70 Full body    
$20 Chibi     

|

     $50 Bust     

|

     $70 Half body      

|

     $90 Full body   
-------\\\ OPTIONAL \\\-------
Maximum number of characters in one canvas: 10



Full price for characters 1-3

     

|

     

10% discount for characters 4-6

     

|

     

20% price for characters 7-10
Extra details include: detailed clothing, numerous accessories, intricate tattoos, props, instruments, weapons, plush toys, devices.
*Price per character based on full base price
Backgrounds are decorative.
*no complex architecture or interiors.
*Price calculated after extra details.
Simple:    5% of total

     

|

     

​​​​​​​

Complex:    20% of total
This is an agreement between you (the client) and I (the artist known as "SnowLicht")


_
◆ No physical item will be sent - you agree to pay for a digital illustration sent via email.

   ◊ Completed commission can be used for personal use (ex: print at home, post on your social media, use as an icon/banner/header.)
◆ Payment will be requested through digital invoice (see "Procedure") to be paid in US Dollars (USD) via Payoneer or PayPal.
◆ Before payment, I have the right to decline orders that I am unable to work on for any reason.
◆ Refund & revisions are not accepted once commission is completed/cancelled.
◆ I reserve the right to cancel an order, refuse future orders, and disclose names (even if opted to remain anonymous) from those who engage in dishonest/abusive behaviors such as slander, stalking, spam, endangerment to safety, harassment, fraud, illegal activity, etc.
◆ I retain copyright of my art.
   ◊ Do not remove my signature.
   ◊ Unless I ask to be anonymous, when posting the completed commission online please credit "SnowLicht" as the artist.
   ◊ Do not sell copies of my art unless you consult with me on commercial use (which comes with higher prices).
I may modify/add to these lists at any time
✕ Character not belonging to you, unless you have the owner's permission (Please ask the owner to contact me to prove that they consent to having their character drawn)
✕ Fan art (I do accept customized player characters from video games such as Skyrim, Dragon Age, etc.)
✕ Architecture, complex machinery, & vehicles
✕ Discrimination (racism, anti-LGBT+, etc.)
✕ Rape, pedophilia, Ddlg/ddlb
✕ Some furries/anthros (see acceptable anthropomorphic ocs in "Can draw" list)
✓ Original character | "Character" can be human, vampire, elf, mermaid/man, skeleton, lichen, ghost, cyborg, android, kemonomimi (animal ears/tail), certain personified animals & sfw anthropomorphic creatures (judged on case by case basis depending on species & design) | Anthropomorphic characters most likely to be accepted are those that could appear in a high fantasy RPG or vintage fairy tale: examples: ◆ Laplace's Demon from Rozen Maiden (man with animal head) | ◆ fox in a suit (man with animal head) | ◆ Beatrix Potter's cute personified animals | ◆Viera from Final Fantasy | ◆ Ancient Egyptian Anubis | ◆ fantasy stag mage |
✓ Most animals & fantasy creatures | Examples: dragon, phoenix, chimera, monsters, etc.  - price varies depending on complexity
✓ LGBT+ characters & couples
✓ Top nudity & pinup/erotica (not for anthropomorphic/furry characters)
✓ Blood, gore, horror, death
Read and follow this Terms of Service in full then fill out the order form at the bottom of this page.
(*ΦωΦ*)
📖
✓✉
\(。 ● ω ●。)/
✉✕

Once submitted, your form will be reviewed for approval. An email should be sent to you within 48 hours. If not, please contact me at: www.snowlicht.com/contact
◆◆

STAGE 2 : Preview Draft
♪(ง ˘ω˘ )人( ˘ω˘ )ว♪
If your order is approved, I will send an email with the calculated price & discuss your payment method.  
✨
٩( òωó )و
🎨If you agree to pay, I will then work on the

preview draft

before sending the invoice.
   ◊ The "

preview draft

" will be a small watermarked rough draft sketch of your order before I work on the commission. 
   ◊ If needed, you may request reasonable revisions. (Edits should be reasonable. Drastic changes such as new characters/outfits and added complexity may result in added fee/delay)
 ( ´• ω•`)つ💵c(´; ω ;`)✧
Once you approve the preview draft, I will send an
invoice with the agreed amount & payment method
. Please pay promptly in US Dollars (USD) (convert currency if needed).
◆◆◆◆

STAGE 4 : After Payment
📧✨I will occasionally email you with progress updates on your order. If needed, please request any minor revisions to ensure the final result of your order is to your liking.
(ノ ´ᗜ `)ノ📧ヽ( ´ᗜ `ヽ)
Please keep in contact with me to stay active on the wait-list. If I cannot contact you after 7 days, I may postpone your order. After 1 month of no contact the order may be canceled.
Refund/cancellation policy:

If you have a valid reason to cancel your order, please email me before the commission is finished so I can provide partial refund and a watermarked JPG file of the incomplete commission (refund varies depending on progress made).
Once you approve the last draft, I will send you the final digital file(s) of your commission via email.
(σ๑´• ω•`)σ✨📧📁📁📁 The commission is complete!
​​​​​​​
Thank you for your interest.  (ノ๑´꒳`)ノ✨
​​​​​​​